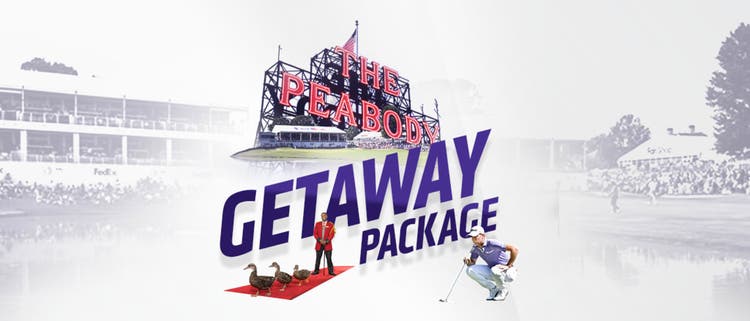 FedEx St. Jude Championship offers Visit Memphis Getaway Package
MEMPHIS, Tennessee – FedEx St. Jude Championship tournament officials today announced the Visit Memphis Getaway Package in partnership with Memphis Tourism and the iconic Peabody Hotel as the PGA TOUR's best 125 players compete at TPC Southwind to kick-off the FedExCup Playoffs, Aug. 10-14. This special offer for regional visitors includes a one-night stay at the famous Memphis hotel, two grounds tickets with special onsite access and an exclusive welcome gift bag.
"We're thrilled to partner with Memphis Tourism once again to provide this exclusive ticket package for our regional fans," said Joe Tomek, Executive Director of the FedEx St. Jude Championship. "Fans from across the mid-south will be able to enjoy the elevated drama of a FedExCup Playoffs event while getting the opportunity to experience all that the city of Memphis has to offer."
The Visit Memphis Getaway Package is $445 (plus taxes and fees) and available Wednesday, Aug. 10 – Sunday, Aug. 14, during the week of the FedEx St. Jude Championship. Due to limited availability each night, bookings will be made on a first-come, first-served basis.
"We are excited to have this world class event featured here in Memphis, Tennessee," said Kevin Kane, President and CEO of Memphis Tourism. "With our annual PGA TOUR golf tournament now elevated to a FedExCup Playoffs event, we know this will be a must-attend attraction that shows off our city and offers visitors from across the region an exciting weekend getaway in our great city. We look forward to hosting golf fans across the area and showing them a great time in Memphis."
The Peabody Hotel is one of Memphis' grandest and most legendary hotels known for its charm, elegance, gracious hospitality, and rich history. With this ticket package, fans will have the opportunity to stay in guestrooms featuring opulent designs, décor, and furnishings. Located in the heart of downtown, visitors are also just a few blocks away from Beale Street, the Memphis Rock 'n Soul Museum, Sun Studio and many more historic attractions including the National Civil Rights Museum and Graceland.
The 2022 FedEx St. Jude Championship will mark Memphis' first year hosting a FedExCup Playoffs event, signaling a new era of professional golf in the Bluff City. Golf's postseason will begin at the FedEx St. Jude Championship, which will invite the top 125 players in the FedExCup standings at the conclusion of the regular season, with only 70 players advancing to the following week's BMW Championship.
Fans can purchase the Visit Memphis Getaway Package at FedExChampionship.com, and are encouraged to follow the FedEx St. Jude Championship on Facebook, Twitter and Instagram for tournament updates.